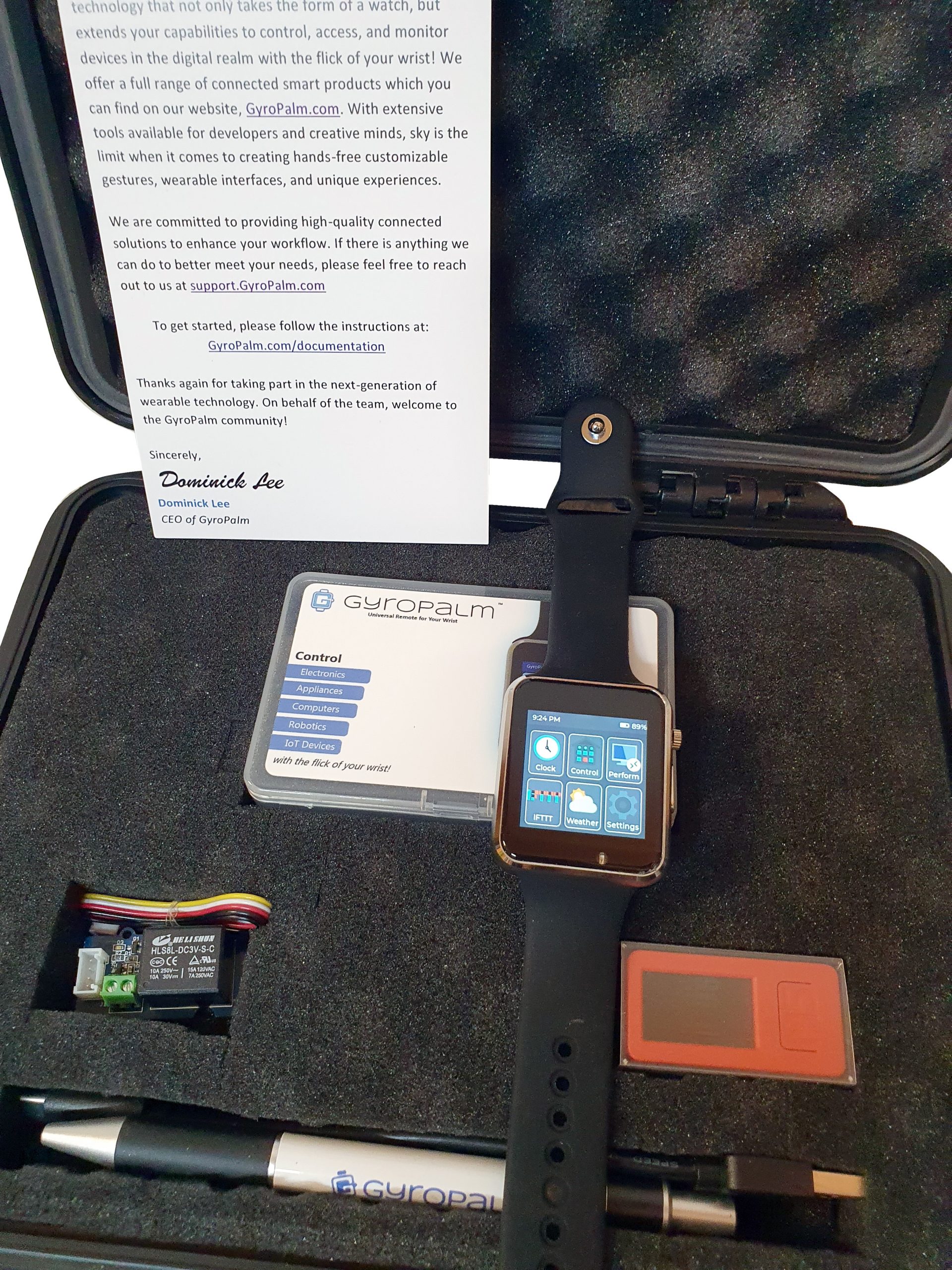 Unleash Infinite Possibilities with the GyroPalm Developer Kit (V2)
At the cutting edge of wearable technology, the GyroPalm Developer Kit V2 serves as an invaluable tool for innovative minds in creating breakthrough enterprise wearable use-cases or gaining hands-on education in STEM fields. The kit comes equipped with the patented GyroPalm Encore, a high-precision wearable device designed for real-time gesture recognition and data capture. Coupled with a wide range of accessories and software tools, the GyroPalm Developer Kit V2 is more than just a product—it is a portal into the limitless potential of wearable gesture IoT interfaces.
Features and Advantages

This developer kit features a high-precision IMU for low-latency data streaming, logging, and event-based gesture recognition. The GyroPalm Encore features an onboard "AI gesture engine" that developers can use to create and publish their own custom gesture-based application through GyroPalm Studio. Additionally, GyroPalm provides detailed developer documentation that allows for step tracking, power management, and the extraction of intricate details from wrist movements. Access to the exclusive GyroPalm Studio, a cloud IDE, and a comprehensive resource packet equips users with endless customization and experimentation possibilities. The wearable can be programmed using C++ and has compatibility with most Arduino libraries. The on-screen interface serves a customizable HMI which can be designed through GyroPalm LVGL, a wrapper that makes it easy to use the LVGL library. Users can leverage GyroPalm's high performance 24/7 websocket server, GyroPalm Realtime, for sending gesture commands to any IoT device of their choice. Furthermore, GyroPalm provides a JavaScript, C++, and Python SDK with many example codes.
Use Cases

Ideal for engineers, professionals, researchers, and STEM education, the GyroPalm Developer Kit V2 presents a platform to push the boundaries of wearable gesture interfaces and human-computer interfaces, leading to breakthroughs in fields such as lab automation, augmented reality, gaming, robotics, and healthcare.
Package Includes

-GyroPalm Encore wearable
-Micro USB cable
-M5Stick Plus (wireless receiver)
-USB-C cable
-Relay Set
-Padded Hard Case
-Developer License Seat
-Unlimited Data on GyroPalm Realtime Network
-Documentation and Developer Support